Sets¶
Sets are ordered groupings of any record type created by the user for a specific purpose. Sets are ad-hoc groups of records for internal features such as a working checklist for an upcoming exhibition, or a set of Entities for which biographical information is needed. Sets are typically temporary groupings, and thus not meant for collection-level cataloging.
A Set Item is a record assigned to a Set. Set Items can take additional cataloging, allowing for the contextualization and annotation of records within an assigned Set. Sets can contain Set Items, where each record contains Set-specific captions and links.
Navigate to Manage > My Sets to view the available Sets. The following options for viewing Sets include: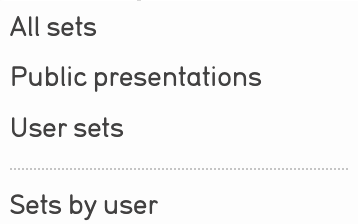 Sets can be filtered by:
All sets: View all Sets in the CollectiveAccess system.

Public presentations: View all public Sets in the system

User sets: View all user-created Sets in the system

Sets by user: View all user-created Sets, filtered by the users that created the Sets.