Displays¶
Displays, also known as bundle displays, specify exactly which fields from a record are displayed in search results or a Summary page in CollectiveAccess. These can be customized, from what fields are present in a record's screen to how many times a field appears on that screen.
Once custom displays are created and configured, several workflow options are available to output the data as displays are essentially synonymous with reports. Users can batch-edit data in spreadsheet format, export the data to tab or comma delimited files, or generate a PDF.
Creating a New Display¶
Navigate to Manage > My Displays.

Select a record type from the "New Display for" drop-down menu in the upper right corner of the screen.

Input the basic information about the new Display. This information will look different depending on the selected record type: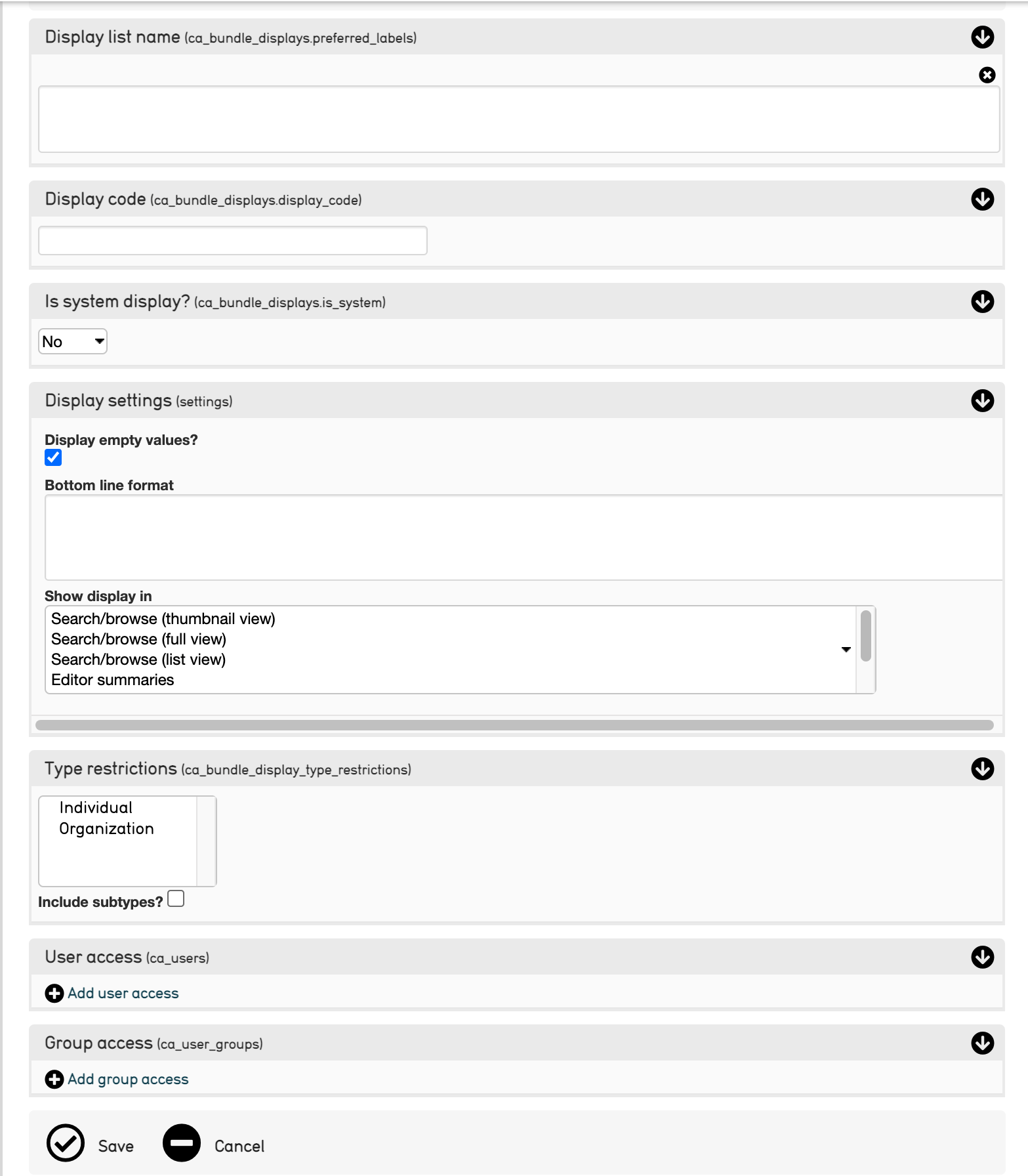 Display list name: The display name for the display.

Display code: The unique identifier for the display to be used throughout the system.

Is system display?: Set the display to be available or restricted to all users as part of the system-wide display list.

Display settings: Display list values to show even when nothing is entered.

Type restrictions:

User access: Add users and set access restrictions.

Group access: Add access for groups and set access restrictions.
Save the options set for the new Display.
Add Contents to a Display¶
Once the Display has been created and saved, contents can be added to the Display. To add contents:
Navigate to the Display List screen to the far left in the Inspector window.

Display list contents will be displayed in the form of two columns. The left column contains all available display items (elements that can potentially be shown in search results and summaries). The right column contains specific elements chosen for the Display:
Drag elements from the left column to the right, into Information to Display.

Save the elements that were dragged from the left column to the right. A new Display with dragged elements has been created.
Advanced Displays¶
New features for displays allow users to control what data is shown and analyzed in reports, results, and summaries. In addition to the tools listed below, there is also a powerful syntax used in CollectiveAccess to control how data is output in displays. This covers cases such as formatting repeating containers, conditionally hiding and showing data, and many more use cases.